Xalan-C++ API Documentation
The Xalan C++ XSLT Processor Version 1.10
Main Page
Class Hierarchy
Alphabetical List
Compound List
File List
Compound Members
File Members
---
XalanLocator.hpp File Reference
Include dependency graph for XalanLocator.hpp: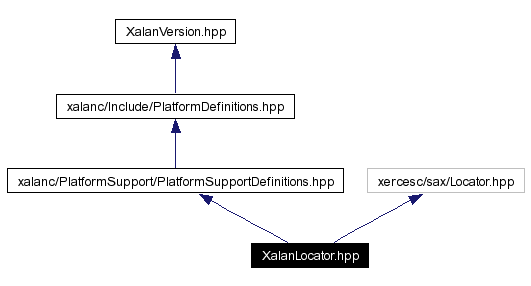 This graph shows which files directly or indirectly include this file:

Go to the source code of this file.
Defines
Functions
---
Define Documentation
#define XALANLOCATOR_HEADER_GUARD_1357924680
---
Function Documentation
| | |
| --- | --- |
| XALAN_CPP_NAMESPACE_BEGIN XALAN_USING_XERCES ( | Locator ) |
This class defines a base class for Locator derivations in Xalan.

It was defined because Xerces made changes in their Locator class which caused turbulence.
Doxygen and GraphViz are used to generate this API documentation from the Xalan-C header files.
Xalan-C++ XSLT Processor Version 1.10
Copyright © 1999-2004 The Apache Software Foundation. All Rights Reserved.